AEMSA is honored to Welcome our newest member – VaporBarStore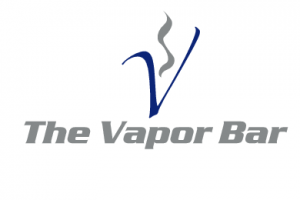 The Vapor Bar has four locations.
From The Vapor Bar:
"The Vapor Bar first opened its doors in December 2012 with the goal to be an education source for electronic cigarettes. We provide electronic cigarettes, quality custom made flavors and are dedicated to helping customers make a switch in their life. Our Motto is, "It's hard to quit…it's easy to switch" and we are dedicated, in store and online to help each customer achieve that goal."
"The Vapor Bar is very excited to become a member of AEMSA.  The AEMSA organization is at the forefront of the electronic cigarette industry with the mission to bring conistent quality products to customers.  This mission epitomizes the quality standards and products that The Vapor Bar has aimed to provide to our customers since we first opened our doors. With their seal of compliance, our ongoing commitment to quality will now be certified by a respected industry organization and we are proud to stand with them to bring the age of electronic cigarettes into the future in a responsible manner. "
–Schell Hammel
---
This new membership addition now brings our General (manufacturers) Membership to: 21 active members, 3 Highly Credentialed Subject Matter Experts (SMEs) and 2 consumer Advocates (CAs).
---
October 30, 2013 – Tobacco Merchants Association (TMA) holds a one-day conference
"FDA Regulation of E-Cigarettes Conference"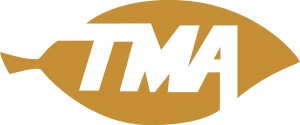 TMA continues to expand its involvement, and participation, in the electronic cigarette industry and related matters.  This one-day event had an audience of over 100 attendees including many high-level industry participants.  Some of the attendees included:
CDC Office on Smoking and Health, Altria, E-Lites, Enthalpy Analytical, FDA/CTP, Goldman Sachs, Keller and Heckman LLP, Legacy, Lorillard, Logic, NJoy, Phillip Morris International, SFATA, VapAria, Wells Fargo and many others.
 AEMSA's 30-minute presentation included:
Introduction and Association status update (Lou Ritter)
Overview of AEMSA Standards (Linc Williams)
Detailed presentation of the AEMSA nicotine Standards (Dr. Matt Melvin – AEMSA SME and Enthalpy Analytical HPLC Group Leader)
Standards Committee – Presentation of the Committee's form and function including all three SMEs and manufacturing members on the Committee  (Richard Henning – Standards Committee Chairman)
Concluding comments addressing myths vs. reality for some of the primary industry propaganda issues (Lou Ritter).
The event speaker/presentation schedule: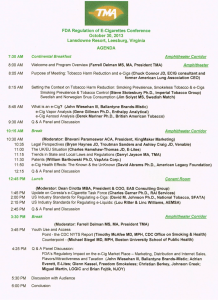 click image for clearer version 
---
November 5, 2013 – SFATA conducts a Washington D.C. "Fly-In", invites AEMSA to participate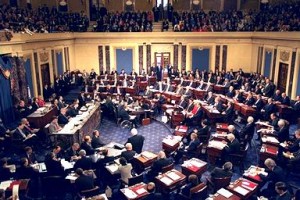 We found the following quote on the "Eye On Washington" website:
"An essential aspect of any successful government relations program is the organization of different types of meetings and events. One of the most important events organized by an association's government relations department is the "Advocacy Day." There is no better way to have your views and concerns heard in Congress then by having legislators hear first-hand from their constituents."
Washington D.C. "fly-in" events are one aspect or approach to "lobbying". Organizations (SFATA in this case), and/or professional lobbyists, usually coordinate these events to introduce industry (and/or subject matter) involved participants to members of Congress.  Participants present facts, economic impact(s), informative/educational material and advocate their positions.  Meetings are scheduled with Congressional offices (more-often Staffers assigned to the industry/issues of discussion).  This is often a first step in opening direct communication with these members of Congress, informing/raising awareness on the issues, and shining light on relevant factors, concerns and/or realities.
SFATA, and their representatives at Venable, LLP, did a wonderful job of coordinating and conducting this event.  On November 4th, SFATA and Venable held a full day orientation meeting for event participants.  SFATA and Venable updated attendees on the regulatory status and prepared attendees for presenting their positions in meetings with Congressional Staffers, etc.  First experiences on the Hill can be intimidating; this day of orientation proved effective in preparing those less experienced, enabling all to participate in these meetings with more comfort and confidence.  We commend SFATA and Venable on a successful and valuable day of lobbying "on the Hill" – bringing those directly involved in this industry within the walls and doors of Congress.  AEMSA appreciates the SFATA invitation and the opportunity to participate.
While individual foci may differ to some degree, we believe industry related associations can maximize effectiveness, and further raise awareness of industry perspectives, through cooperation.  This is especially applicable to industry advocacy, effectively communicating industry related concerns and issues (like economic impacts), and informing/educating both regulators and the public on factual science/medical based (verifiable) research.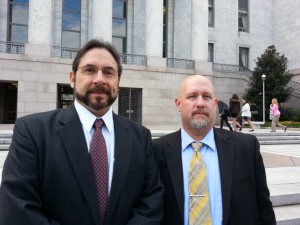 AEMSA representatives Lou Ritter and Linc Williams participated in meetings with two different Congressional Staffers.  They also conducted many other "walk-ins" into various Congressional offices leaving contact information and other AMESA printed material.
AEMSA compliments and commends SFATA for both coordinating this event and for the manner in which it was conducted.  We hope to find more opportunities to work together.
---
November 12, 2013 – "The E-Cigarette Summit – Science, Regulation & Public Health": http://e-cigarette-summit.com/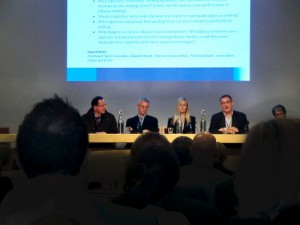 AEMSA's Co-Founder and Chairman of Compliance – Linc Williams attended a gathering of scientists, experts, policy-makers and industry figures at the Royal Society in London. The EU E-cig Summit was very engaging and enlighting on the situation in Europe and the UK in particular.  There was agreement on both sides that electronic cigarettes are almost certainly vastly better than tobacco cigarettes. The differences arise on whether e-cigarettes should be regulated as a medicine or not. AEMSA SME Dr Konstantinos Farsalinos  presented a summary of E-Cig science to date and participated on panels.  Linc Williams met with fellow advocates from many groups (SFATA, ECF, ECCA, ECITA, Vapor Trails TV and more) to discuss the future of E-Cig advocacy and E-liquid good manufacturing practices. AEMSA also participated in a Video interview with Al Jazeera Television describing our organization and the success of self regulation of our members. Copies of the presentations can be downloaded here

This event received global industry attention.  Originally, AEMSA was invited to present at this event.  Unfortunately we were unable to confirm our ability to attend until after the presentation schedule had been closed.
This event included presentations from:
This event was a success and we believe served the industry well.  Downloadable presentations can be found here: http://e-cigarette-summit.com/presentations/
Links to some articles discussing the event, presentations, etc.:
http://news.yahoo.com/e-cigarettes-could-save-lives-conference-told-144117891.html
http://ecigarettereviewed.com/e-cigarette-summit-london-summary
AEMSA is committed to furthering our stated Missions of providing professional product stewardship, providing consumer protections through responsible good manufacturing practices and advocating for re-fillable e-liquids.  Membership continues to grow and we are pleased with the Association's progress and achievements. – Lou Ritter, President – AEMSA